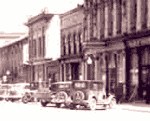 Address:
225 West Church Avenue, Suite A
Reed City, Michigan 49677
Phone: 231-832-2201
Email Us:
Reed City's first school was opened in 1872 after the Grand Rapids & Indiana and the Flint & Pere Marquette railroads made travel to this area possible for many. A year earlier Nathaniel Clark had opened a general store and believing there was a need for a school, pursued the issue. A school board was organized which included an attorney who found that no public money could be spent until school had been in session for five months.
Nathaniel Clark's daughter, Mary, was teaching in Caro at the high school, when her father appeared before the local school board and convinced them to release Mary from her contract for the remainder of the school year. She then came to Reed City promising to return to her job at Caro the following school year.
Mary Clark arrived in Reed City on the new railroad and was met by her father who took her home to a room above his store. The following morning they trudged through the woods and the mud since there were no streets or sidewalks at that time. Mr. Clark told his daughter the school would be located above the Davenport store east to the spot where the two railroads met. The classroom involved rough planks set on nail kegs and an upside down empty dry goods box for the teacher's desk.
Nobody knew how many students would attend the new school though Mr. Clark estimated there would be at least a dozen. 23 students arrived on the first day of school, and 35 appeared on the second day. These children arriving in the wilderness came from Germany, Ireland, Pennsylvania, Ohio, Indiana, New York and Michigan and had books with them from those schools. A local carpenter made a blackboard and donated it since there was no money to buy one.
Eventually, when there were between one and two hundred students, classes were moved to the Baptist Church, and an additional teacher, Lemuel Barnes, was hired. Miss Clark later became Mrs Barnes. Before returning to Caro, Mary Clark selected the site for the first school, which opened in 1874. This first school building was two stories and housed 400 students. Wood stoves were used to heat the building, and a cord of wood in three-foot lengths could be delivered for $1.25. At that time the entire area was covered with beech and maple trees.
Inside the new school there were two stairways leading up to the second floor, one used by boys and the other by girls. Superintendent A.B. Perrin would stand at the top of the stairs to keep order as students filed in to their seats. Professor Perrin served for thirteen years as superintendent and was noted for his size being both tall and weighing over 300 pounds. By 1882 Perrin's staff consisted of five teachers and himself to teach all grades. The payroll for the entire staff was $2120.00. The first graduation was held in the Opera House on June 27, 1884 and consisted of three girls.
In 1886 the school population had grown so large that a wing was added to the Ward School and a kindergarten building was built on Higbee Street. The total cost for the two was $1800.00. Then in 1894 voters approved a $15,000.00 proposition to build a new grade and high school. In 1923 the cornerstone was laid for the new high school costing $100,000.00. In 1924 the first class graduated from this new three- story brick building. When the new high school was completed in 1963, the 1924 building became a middle school for grades 6, 7 and 8.
The school district's greatest growth occurred from 1950 to 1968 when it went from 4 square miles to 240 square miles located in Osceola, Lake, Mecosta and Newaygo counties. In 1950 the shop and agriculture building was completed at a cost of $45,000.00, and in 1954 the Reed City Elementary School was finished at a cost of $250,000.00. In 1957 and 1958 two rooms each year were added to the elementary school; the total cost for building and equipping these rooms was $70,000.00. Annexation had increased the school population to the point where a new high school was needed. In 1961 electors approved a $1,425,000.00 proposal to build and equip a new high school and remodel the old high school as well as the agriculture and shop building. The new high school was completed in 1963. Also in 1963 the Hersey School District annexed to the Reed City School system. Hersey had a fine elementary building completed in 1960, but Public Act 289 of 1964 dictated that K-8 districts join a K-12 district.
With the district growing and the need for expanded facilities continuing, the community passed a bond proposal in 1991 that built the new Reed City Middle School, which is an annexed part of the high school. That building was completed and dedicated in 1993.