Just a reminder:  The second meeting to go over the 2023 European tour will be held tonight, Wednesday November 3rd, at 5:30 p.m. in room 206 in the high school. This meeting is for those interested in the tour but were unable to attend last week's meeting.  If this doesn't work for you, please contact Katrina Wray  at
kwray@reedcityschools.org
or Tracie Koopman at 
tkoopman@reedcityschools.org
for more information.  Flyer Link Below:
https://5il.co/111qn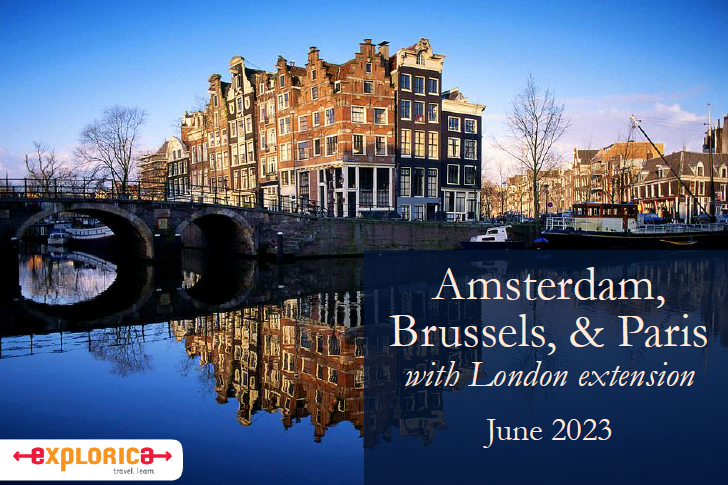 Just a reminder:  The second meeting to go over the 2023 European tour will be held tonight, Wednesday November 3rd, at 5:30 p.m. in room 206 in the high school. This meeting is for those interested in the tour but were unable to attend last week's meeting.  If this doesn't work for you, please contact Katrina Wray  at
kwray@reedcityschools.org
or Tracie Koopman at 
tkoopman@reedcityschools.org
for more information.  Flyer Link Below
https://5il.co/111qn

FRIDAY NIGHT!! District final game v Montague @ RC —— 7pm. Here's the ticket link! Reminder, tickets are all sold online - so share this link, buy your ticket, and let's get the stadium FULL on Friday night!
https://gofan.co/app/events/425444?schoolId=MI10296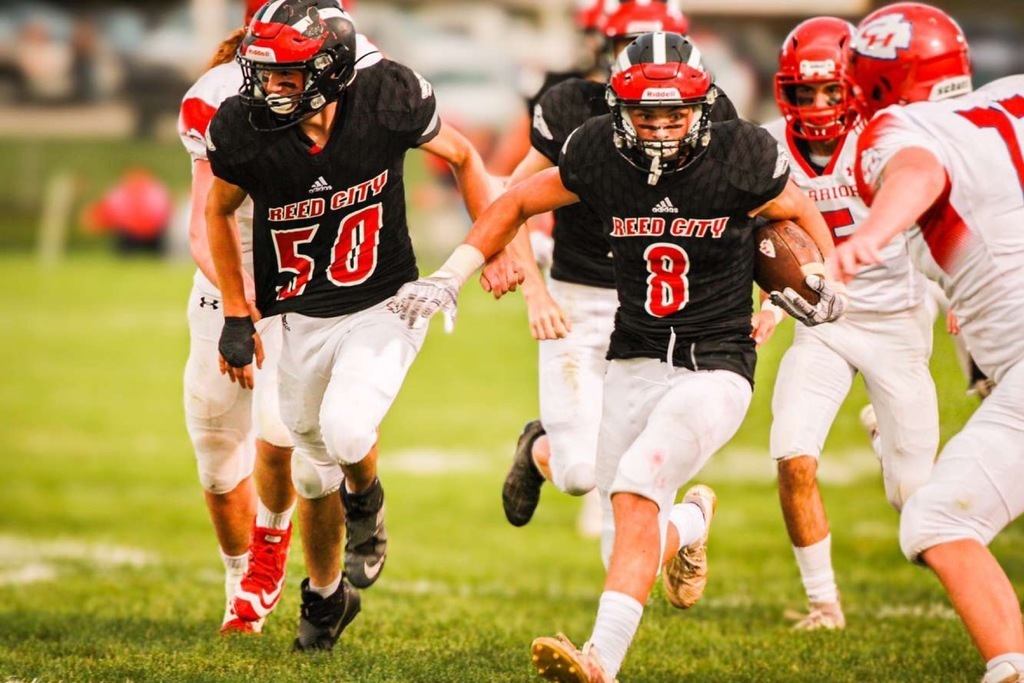 European Travel Opportunity: Amsterdam, Brussels, Paris, and London We hoped to get the message out to parents last week about the 2023 tour meeting that took place on Tuesday night.  However, the message didn't get out as planned until the day of the meeting.  As a result, we have been contacted by several families to say there was not enough advanced notice to be able to attend.  Therefore, we will hold another meeting next Wednesday, November 3rd at 5:30 to accommodate those that wanted to attend but were unable.  We will meet in Katrina Wray's classroom (room 206) for a brief explanation and to answer any questions. We look forward to explaining this travel opportunity next week for those interested! Any questions please contact Katrina Wray at
kwray@reedcityschools.org
or Tracie Koopman at
tkoopman@reedcityschools.org
for more information. Click the link below for the flyer:
https://5il.co/111qn

RCAPS afternoon buses are running 5 to 10 minutes behind on Thursday, 10/28.


Just a reminder that the informational meeting for the European travel opportunity in 2023 will be held in the high school/middle school library tonight at 6:00 p.m. We will be sharing the European travel opportunity for 2023. We are super excited as the tour includes stops in Amsterdam, Brussels, Paris, and London-- 4 amazing cities in just one trip! Please join us as we go over the details and give you an opportunity to enroll and travel with us. Families/friends are welcome. If you are interested in the tour, but unable to attend the meeting, please email
kwray@reedcityschools.org
or
tkoopman@reedcityschools.org
for more information. 2023 Flyer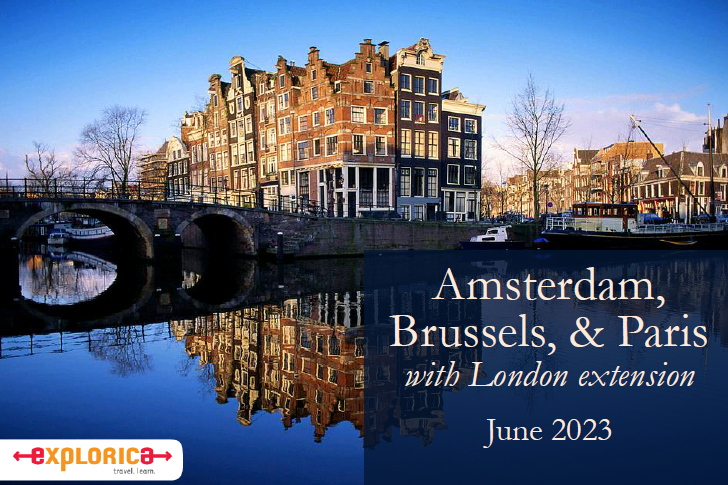 Cross Country Regionals are Saturday - our team runs at Benzie Central! See the attached image for race times and event details. Good Luck Cross Country!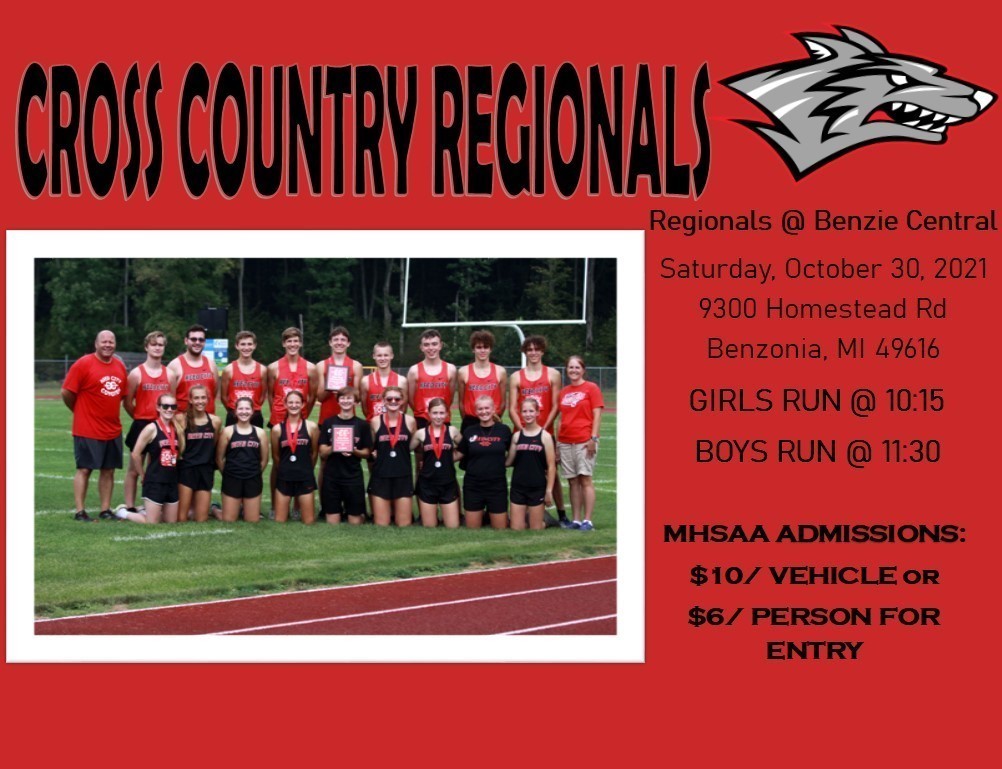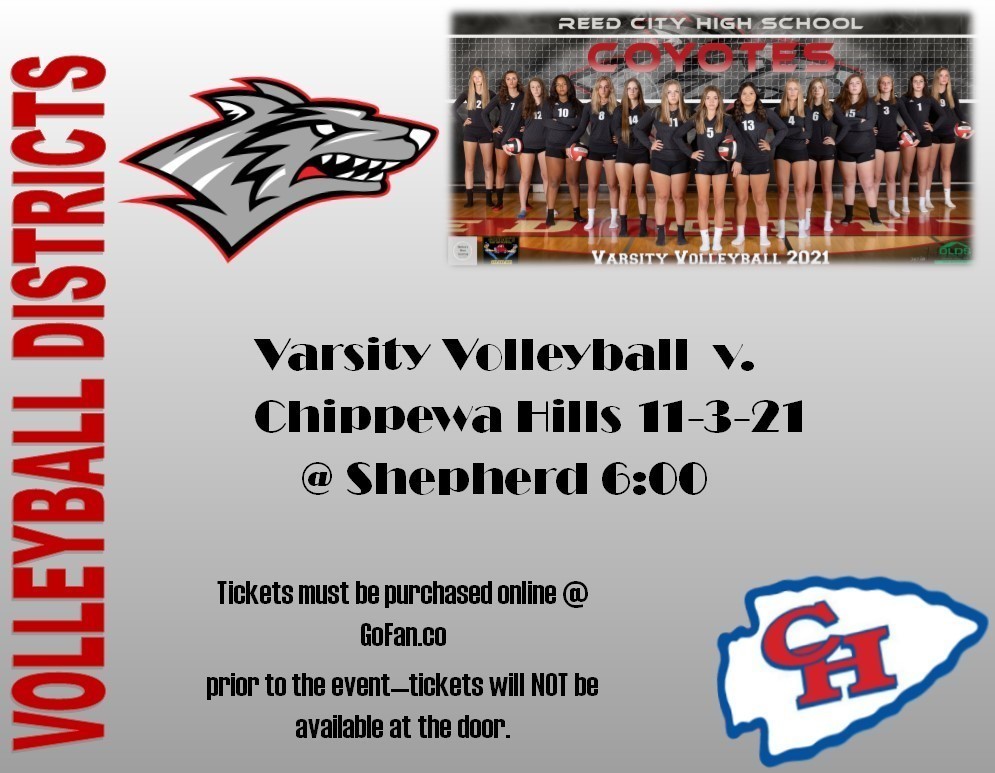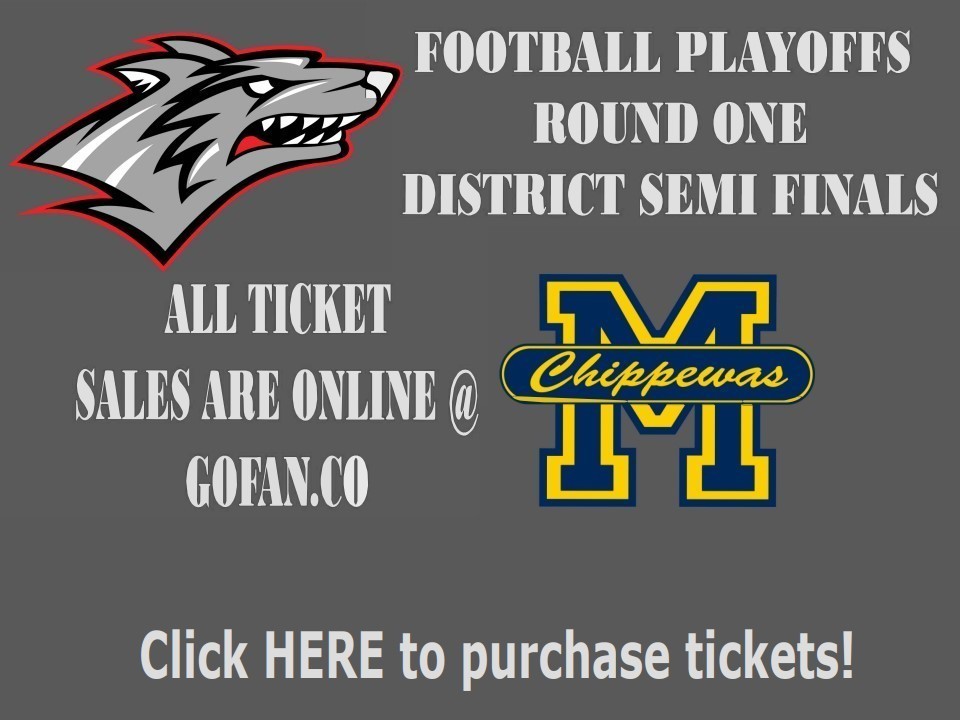 Reminder: No school for students tomorrow October 22, 2021. Staff will be attending District Provided Professional Development.

Coyote Families, Bus #7 and #9 will need to combine routes for this afternoon. Drop off times may vary. Sorry for any inconvenience.


Updated event schedule for the week! Let's go coyotes!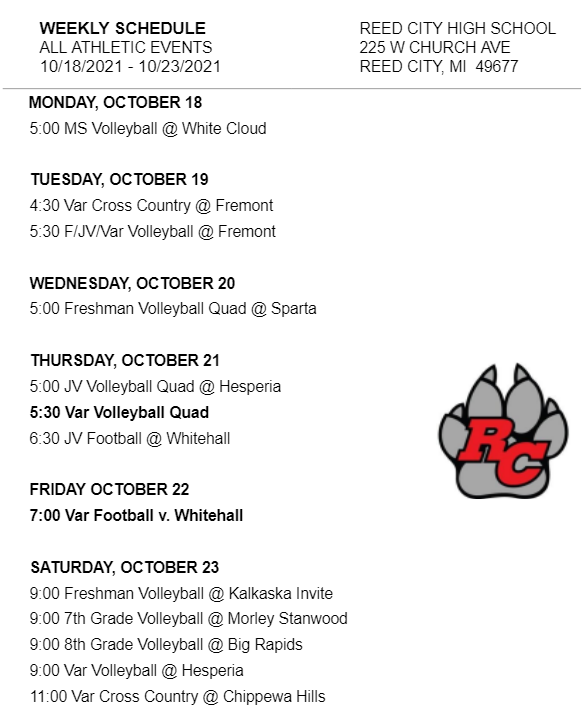 Next week we have a Board of Education Meeting on Monday, October, 18 at 7:00 P.M. - More information for that meeting can be found here:
https://www.reedcityschools.org/page/youtube-stream
Next Friday, October 22 is a staff PD with no school for students.


This week's athletic events are below! #gocoyotes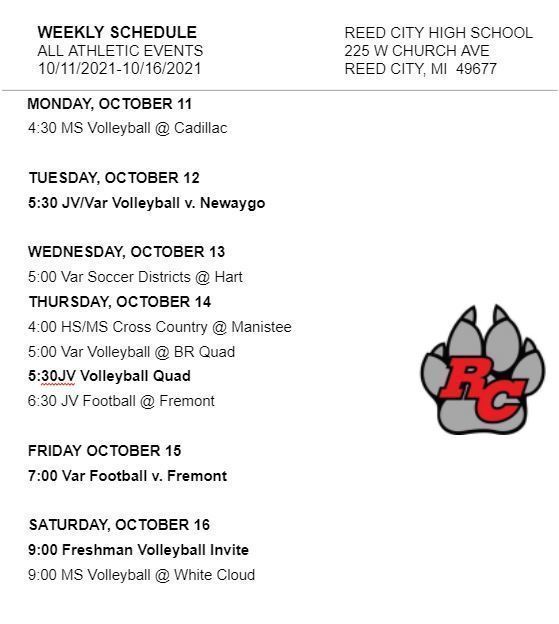 Dear Juniors & Parents, This Wednesday, October 13th, our juniors will be taking the PSAT in the morning in the gym. RCHS offers this opportunity for our juniors in preparation for the SAT in the spring, as well as providing the opportunity to qualify for the National Merit Scholarship program. Mrs. Curtis will hold a "bubble session" for the students 1st hour on Monday (10/11) morning to complete their answer document information. A make up session, if necessary, will take place on Tuesday (10/12) during 1st hour. Testing on Wednesday will begin at 7:55am and run through 11:30am. Please get a good night's sleep Tuesday night and make sure to eat breakfast Wednesday before the test. Also, please be prompt in your arrival Wednesday morning so we can start on time. Thank you, RCHS Administration

Coyote Families - Bus #8 and Bus #11 will not be running tomorrow, Friday, October 8, 2021. Sorry for any inconvenience.